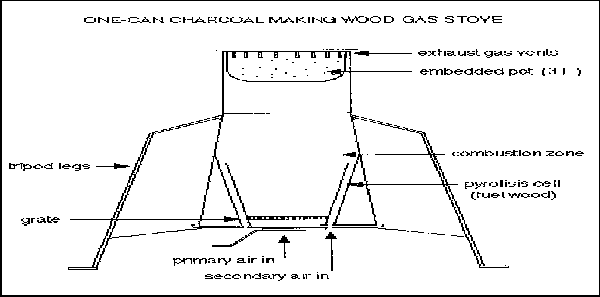 A new design:
I have designed a stove that is an overall better performer on both FOM (ave .95) and charcoal production (ave. 21%), but this stove is difficult to produce and would probably not be received so well in the marketplace due to higher prodcution costs. The design is based on a single 25 liter paint can with an extension to the top (wider end) to accommodate an embedded 4 liter pot:
Turn a 25 liter paint canupside down and cut out the bottom; 28 cm dia. top, 30 cm dia. bottom. Add 20 cm high extension, maintaining a 30 cm dia. The 'can is now 56 cm high.
Insert a double walled funnel (the pyrolisis cell) into bottom of can: 21 cm outside dia.at bottom, 29 cm outside dia. at top and 1 cm gap between inner and outer walls of the funnel. Inner funnel is 3 cm shorter than the outer cone wall at the top. The outer wall of the cone meets flush with the paint can wall 26 cm up from the bottom of the can.
This double walled pyrolisis cell has a grate 2 cm from the bottom, and the whole unit is affixed to the original can lid which is now used as the bottom of the stove, held tightly in place using the original tabs around the rim.
Primary air is controlled by the usual 2can sliding gate affixed to the bottom 'lid' beneath the stove. Secondary air enters via 80 7mm holes punched through the bottom lid' allowing air into the gap between the inner and outer walls of the pyrolisis cell.
The combusion of pyrolisis gasses occurs at the lip of the inner pyrolisis cell wall.
The 'splayed out' arrangement of wood in the slightly funnel shaped pyrolisis cell seems to make lighting easier, and allows for an even burn despite the fact that the cell walls aren't perforated.
Exhaust gasses escape the top of the stove via 16 5mm wide by 3cm deep angle-grinder cuts made vertically into the top of the stove.
Fuel load is reduced in this stove to 3 kg, burning time is typically between 60 and 90 minutes, taking 10 minutes to bring 2.8 litres of water (initially 19'C.) to boil.
Turndown ratio is between 3 & 4, flame holding very good, wind resistance excellent.