This would be Elsen using the one can charcoal making stove.

This shows the same stove with the double walled pyrolysis chamber detatched from the bottom. See diagram .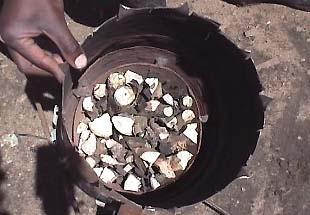 This picture shows the dry wood fuel packed into the pyrolysis chamber. Using some kindling, the fuel is lit on top. If the air supply is kept to a minimum, then the volatile portion rises mixes and burns with additional air at the rim of the chamber.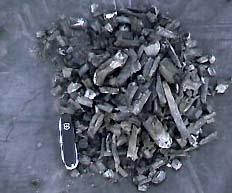 When the volatile component of the fuel has been used up the remainder is charcoal.
If starved of air, by dumping it in a sealed metal pail, the hot charcoal will cool down to be available for later use or sale.

This is a slightly different model. See diagram

This is a picture of some of the high quality charcoal briquettes made with Elsen's machine. See Photos. These are made from waste fines (dust) collected from vendor's sites. The clay binder works fantastically at 10%!