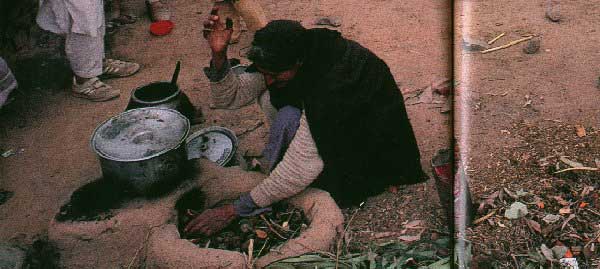 This site exists to help people develop better stoves for cooking with biomass fuels in developing regions.
A discussion of this issue is occurring on the Stoves Mailing List. Link to Archive

List Moderators are Ron Larson (ronallarson@qwest.net) and
Elsen L. Karstad (elk@wananchi.com www.chardust.com)
If you have relevant information or pictures please send it to CREST, so we can post it through this site and share it with other interested folks.
Other Useful Stove Links / Links By Country / Health and Environment / Fuels / Safety
Gender, Economic Development / Design / Dissemination
Charcoal and Carbon Links / Gasification Links
---
See the Gallery of current stoves
---
NEW
Aprovecho Research Center Cook Stove Designs, Jan 2003
Venter Forestry Services, Dec 2002
ARTI Charcoal and Briquettes, Nov 2002
World Health Report on Environmental Risks October 2002
Update on Eritrea and Ethiopia, October 2002 Robert Van Buskirk
Stephen Gitonga The Energy Ladder October 2002
José Fernando Martirena Hernández Solid Fuel Block from Waste Biomass in Cuba October 2002 (pdf 900k)
Emma George A Comparison of Wood Burning Cookstoves for Uganda, August 2002 (pdf 400 k)
Damon Ogle Rocket Stoves - Controlling Draft, August 17, 2002
Damon Ogle Rocket Stoves In Search of Higher Temperatures, July 2002
Kirk Smith Short Primer on Stove Efficiency, May 4, 2002
Roger Sampson Mayon Turbo Stove for Rice Husks, Update April 2002
Dean Still, ETHOS Website, Engineers in Technical, Humanitarian Opportunities of Service, April 2002
Evans Kituyi Bioenergy Africa, February 2, 2002
---
International Conference on Biomass-based Fuels and Cooking Systems, (BFCS-2000): A Report, Dr. Priya Karve
A few images from the conference.
Contributions from some of the Stoves mailing list's participants
Most were submitted as an aid to discussions which occur on the list.

---
---
---
---
---
---
---
---
---
---
---
---
---
Jose Fernando Martirena Hernandez
---
---
---
---
---
Woodgas Stove Flame, Tom Reed (February 2, 2002)
Two Papers on The Turbo Stove , Tom Reed (July 31,99)

---
---
---
---
---
Dean Still, Peter Scott, Larry Winiarski, Aprovecho

---
---
---
---
ORGANIZATIONS DEVELOPING AND PROMOTING COOKSTOVES AND FUELS
PUBLICATIONS AND MANUALS
RELATED SOURCES
Chambers Stoves
Thanks to Alex English for creating this site. Edited January 18, 2002 by Tom Miles